Will Skiers Save the World?
It is highly hypothesized that skiers will be dramatically responsible for saving the world. The single largest threat to the earth and the well being of human life is actually bureaucracy and progress in the form of $$$. The global level of pollution is a sad reality that we are all responsible to face. It is our doing. With our global purchasing power, our desire for low-cost goods, exotic foods, all sorts of other stuff that we literally don't need. Under the container with all these wonderful things we don't need is the fossil fuel guzzling tanker barge traveling the high seas or a semi-truck guzzling diesel across continents.
Purchasing local could save us. But what are the implications? Oh, a little pollution? That's acceptable, right? No. Those of you who don't ski will never understand, at least not until it's immeasurably too late. Skiers see the snow pack. We live in the mountains. We measure the depth. By mid February we know whether there will be enough water to sustain the local civilization.
While you might enjoy the mild winters with little to no shoveling of your driveway the real effect is that less snow is falling, average temperatures are higher, and less water is being stored in the mountains. So if winters are getting shorter so is the idea of a sustainable society.
People who see what is going on early, ie, skiers, have the urgency to get something done. We don't have much but we are nonetheless people with a drive to curb the problems we're currently facing. What is necessary is often uncomfortable. The time will come when we all have to sacrifice to make the dream of good winters and clean air a reality. If not, then the time will come when we no longer have the ability to water our crops, drinks from springs, nor will we be able to drive our autos. (they don't tell you how much water is involved in making a gallon of gasoline.)
---
December 2015 -
So the start of our season, despite much excitement around the west of El Nino, the disgruntled snow child of the weather gods, has been somewhat lack luster. The early snows were actually exciting and everyone started ramping up. Touring started early. I went out too. But I've been watching the weather trends, the atmospheric moisture movements in our part of the world as well as temperatures and actual snowfalls... It's been a disappointment but it's more or less been expected...
---
Feb 10, 2015 -
I've had some thoughts about the season as of late. We're on the 36th day of above average (and record breaking) temperatures. That's according to the UAC (Utah Avalanche Center) report this morning. It's weird for us to have these conditions.... More thoughts, click on the pic.
---
Feb 4, 2015 -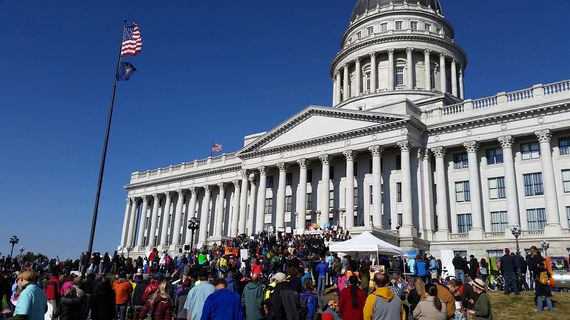 To be honest, I don't know quite what to say here. But it's clear that some people love polluting or they love pollution; take your pick. It's a frustrating thing to deal with a bunch of good ole boys both in and outside of the government. This happened in my backyard. I was unfortunately at work and being desperate for income I was inclined to work. I had a lot of friends at the rally however. For that I am grateful. Many of them are skiers.
---
Jan 30, 2015 -
I know it doesn't directly appear to have a lot going of correlation to skiing, but read into it and you'll see how it will affect us. Highway infrastructure only accomodates a dying breed of oil hungry consumers. All of this promotes more driving, more pollution, more industrial waste - on shore, ocean, and in the air. Give it a read. It should be outrageous.
---
Jan 26, 2015 -
This was sent to me. The article addresses that Congressman Stewart basically supports industrial pollution. When will industrial air pollution be reclassified as industrial waste??! I don't know what the actual tie is with pollution and global warming but I do know that health and pollution are directly correlated.
---